Olympic Poster design
As part of our Olympic topic we designed posters for an Olympic event in Edinburgh! After we'd studied posters from previous Olympic events we noticed that they all had the date and city name clearly stated but they also showed a representation of the city too. We wanted to include Olympic colours and some of us found a way to use the Olympic values of Respect, Friendship and Excellence too. Our posters were created using the Paint program which was easy and hard to use in equal measure. The great thing about it was that it gave a variety of textures and the colours were easy to use but the hard part was that once the shapes and ideas were in place they were really hard to move or delete! So, pleased be amazed by our work because we worked really hard!
Olympic Dance Workshop
Wow! We had the best dance workshop! Julie from Step-it-up! worked with us to create a dance that could be used at an opening ceremony at our Edinburgh Olympics! What an amazing start to any celebration!
A copy of the term ahead letter for Primary 5B is available by clicking the link below
This will inform parents and carers of what the children in Primary 5 will be covering this term.
UKULELE WORKSHOP
We have had many fun opportunities so far this term. One of those is learning to play the Ukulele! We have attended two workshops so far which have been fun. We know how to play the chords G, C, E and A. The way we remember the order is Good Children Eat Apples!
         OLYMPIC VALUES
One of our Olympic values is EXCELLENCE and we have been considering this in lots of different ways. Basically it gives us the opportunity to improve our performance by trying to 'beat' our previous score, creating a personal best.
So far we've been working against the clock to learn our 3 and 4 times tables, practised seated throws and long jumps and worked hard to get a higher spelling score when spelling days of the week and months. Even if we improve by tiny steps then we are showing that we are committed to progressing and improving our performance.
Here are some photos of our floating and sinking experiments.  Firstly we tested different materials to see which we'd use to make an Olympic buoyancy aid for the sailing team – definitely not out of metal or glass!  Then we made boats of different shapes from tin foil and then gradually filled them with pennies to see which would float the best! Even though some of our boats would not have sailed far in the Olympics some of them were quite buoyant – Maia's even held over 20 pennies – and we celebrated other people's achievements rather than feel that we had failed. We are EXCELLENT!
OPEN MORNING
It was lovely to see so many parents at the Open Morning, where we focused on Literacy. Primary 5B were working on planning biographies about an Olympic athlete of their choice, using the laptops. The children did a fantastic job of mindmapping, and we enjoyed sharing out learning experience with parents and young siblings!
SWIMMING
It has been very exciting making a trip to Dalry Swimming Pool on a Thursday where we have learned to improve our underwater skills and our stroke technique.We are becoming much more confident in the water and it has been great to be able to swim with our peers!
MEASURING LENGTH
There are so many different reasons we would need to know how to measure the length of something – we came up with 16! Can you?
After practicing converting from centimetres to metres and vice versa we took our measuring outside and measured real things! It was tricky because we firstly had to learn how to measure something that was longer than the tool we were using – eek! But, we managed in the end – here are some photos of what we measured or what we drew, as one of the tasks involved drawing a crazy line of particular measurements!
Welcome back to our last term in Primary 5 – boo hoo!
We hope everyone had a lovely Easter break, with just the right amount of treats! If you click on the link the term ahead letter will explain what P5B will be learning about this term, and other information and admin can also be found here.  Look out for letters about trips this term – we have one to the Botanic Gardens and another possible visit to a working apiary!
Busy Buzzy Bees!
As this term's topic is 'Giving Nature a Home', we are finding out about the honey bee and how it is an essential part of our lives without us even realising! About a third of the food we eat relies upon honey bees to pollinate the plants (other pollinators are available!).  They also help to pollinate plants we need such as cotton and flax which are used to make so many products we use every day.  So the more we find out about honeybees and how to help them the more sustainable our future is.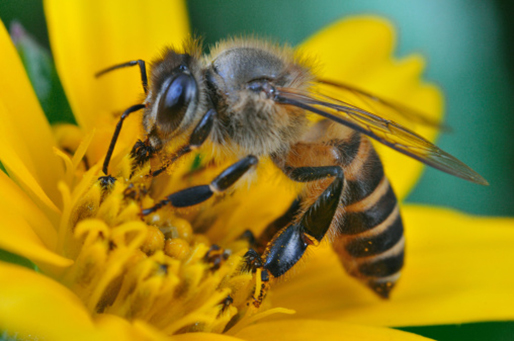 We invited Kimberley into class to tell us about bees and beekeeping. It was amazing!  She told us about the different types of bees in her hive and their jobs, how many bees can live in a hive and a bit about their life cycle.  She explained about how the hive operates and how bees cooperate to protect it from predators. 
Her hive is on her roof top near Arthur's Seat so the bees have plenty of wild flowers to collect pollen from. She let us taste some of the honey her bees made – it was delicious (well, almost everyone thought so)!  The hive that she brought in is a spare one but soon it will be full as her current hive will expand once a new queen is hatched – only one queen per hive!  She showed us the bee smoker she uses to calm the bees before she opens the hive to clean it and her bee keeping suit and hat which helps her avoid stings – bees only sting you if they feel threatened or are trying to protect the hive.
We shall keep finding out more about bees, pollination and how we can protect them throughout the term – make sure you ask us what we've found out each week!  And remember, bees don't want to bother you, so don't bother them – Leave Them Beeeee!
Kings and Queens of Tarts!
As we have been learning about instructional writing, measuring weight and which fruit plants are pollinated by honeybees we decided to put all of this learning together and make some tarts!
'Oh you can't make pastry in a hot classroom with lots of children!'
'Oh yes we can!' And we did!
P5 take a trip to the Royal Botanical Gardens, Edinburgh
As part of our topic 'Give Nature A Home' we visited the Botanics.  It's an obvious place to go when learning about plants isn't it? We were booked onto a workshop called 'The Life of Plants' and went armed with all our learning about bees, pollination and the parts of a flowering plant – we were well prepared! 
We're going on a plant hunt.
We're going to catch a big one.
We've got to go through it!
Get on, be quiet, get off!
Get on, be quiet, get off!
Get in, be quiet, and listen!
Here are some photos to show what we did on our trip.  And eventually we will have our comments posted to tell you even more.